If you're visiting Bangkok there's very good chance that you'll be popping into MBK (Mahboonkrong) Mall since it's one of the most well known shopping centers in the city.
Among the cities load of malls, MBK is not exactly the poshest. It's sort of the Thai working classes' mall where prices for clothes, bags, shoes are more acceptable for locals. And it's also a great place to socialize with friends and family because MBK has a huge bowling alley, ice skate rink and a cinema theater with the latest screen and sound tech.
For tourists on a budget as well, MBK is also a great place to buy clothes too. Because a lot of MBK's customers are foreigners you can find many European and American shirt and pant sizes. There are tons of shops selling t-shirts with gimmicky phrases and funny graphics for as little as 90THB or $3USD.
Plus they've got one rocking food court with inexpensive food and a lot of variety from the usual Thai dishes like Som Tom to Hong Kong  styled noodles and a bit of Muslim fare like chicken curry over yellow rice pilaf.
Now there really isn't too much new information to add on top of what has already been written about MBK in numerous travel articles. But I'd like to share a little bit of what I know about MBK. And below are just 5 tips that might be useful to you plus 5 hotels that are really close to MBK mall:
1. Get the Best Exchange Currency Rates
If you're going to shop hard you're going to need plenty of Thai Baht in your wallets and handbags. So if you've got yourself a fist full of your home currency and need to exchange them with better than bank rates then head to the 2nd floor of MBK where you'll find Super Rich branch.
I personally use their services and when you compare them to Thai bank conversion rates Super Rich gets you much better rates. They're now located in a lot of major tourists areas but really MBK is as touristy as it gets.
Also, if you've been withdrawing money out from most Thai ATM bank machines you'll notice that there's a 180THB fee. Want to save 30THB? Then look for the Aeon ATM machine, also located on the 2nd floor of MBK. They charge 150THB. It used to be free for many years until recently they started charging. What can I say? Even fat rich bank CEOs have to eat.
2. Find Brand Name Clothes at Outlet Prices
I'm a big guy and sometimes it's tough to find the right size. I wear about a large to XL for shirts but sometimes L or XL for Thais can be a bit small. So I like going to these Export shops. You can find 2 at MBK. One on the 2nd and 3rd floor.
Back in the States we have these outlet malls where you can find brand name clothes for cheap. Well, the Export shops stock up on brand name clothing themselves. From Gap, Dockers, Ralph Polo, American Eagle and sometimes J. Crew and Banana Republic. They even have these 511 Tactical shirts and pants too. Besides the most popular brand name shirts and pants there are also a lot of lesser well known but good quality clothes that fit westerners too.
Other shop selling similar brands but different styles are called XL for Men and 71 Imports.
Because so many big name clothing companies use factories in Southeast Asia to produce their items a lot of the overage ends up in shops like Export at reduced prices.
3. MBK's Camera Shops
I'm a camera geek. So I love checking out the latest toys.
To me the prices of cameras are expensive in Thailand. Though prices for camera gears are very reasonable like tripods, camera bags and sometimes lenses. I think the better deals for the actual camera itself is back in the States. Anyways, if you lost your camera somehow and you need to buy a new one, I recommend heading to the ground floor of MBK near zone B. It's the one pictured below. I know it looks like a hole in the wall but they've been there for the longest time and quite reputable.
You can get a Tourist Vat Refund too when you buy something there so you can save a bit of cash as well. I believe you get back about 7% back at the airport.
Camera Center on the 5th floor camera prices are not too shabby either if you really need to pick up cameras in Bangkok. They too offer a VAT refund as well.
4. Don't Forget to Check MBK's Ground Floor
The ground floor has a lot of good deals too. Many tourists neglect the ground floor because most tourists enter the shopping mall from the 2nd and 3rd floor where the Sky Train walkway leads to the BTS National Stadium train station and Siam Discovery Mall.
But the ground floor is where a lot of discounts can be found too. So be sure to walk around the ground floor and you just might end up with better discounts for clothes and other knick knacks.
MBK has a total of 7 seven floors and you can check out the mall directory here.
5. The Hunt for a Clean Toilet
As we get older (yes, I'm speaking from experience) we want to have access to rest rooms that are as clean as possible. I know this is even more important for women. Well there are many bathrooms at MBK on every floor. And you have to pay 2THB per person to use them.
Yeah, it's cheap and I'm not complaining about the price at all for the admission to take a piss or dump. Problem is those bathrooms are not that clean. Because there is such a high volume of visitors to MBK it's really no surprise that the toilets are well used.
If you're borderline OCD like I am you can try the restrooms over at the Tokyu department store that is right inside MBK. The bathrooms are located on the 3rd floor, right between the wrist watch and sporting goods section. It's free to use. But remember to bring your own toilet tissue.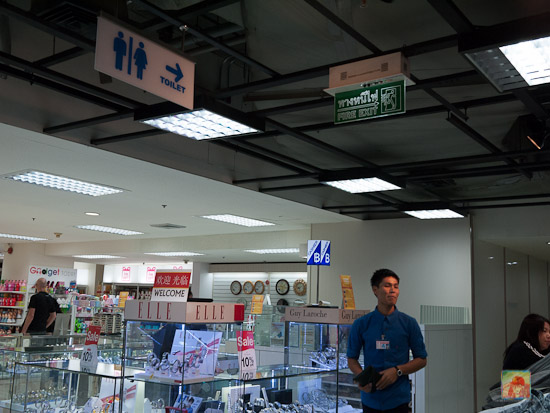 MBK is a fun place to hide, chill out and get away from the city's heat for awhile. The mall officially opens at 10am but a lot of the smaller stalls open a little later. Closing time is 10pm.
It's located right in central Bangkok, in a lively area called Siam. So it's also a really good idea to find a hotel in that area because it's right next to a Sky Train station called National Stadium.
Because MBK is right by Siam Paragon, Siam Square, Siam Discovery and Center the area is totally family friendly and away from the red light districts.
Below are names of 5 hotels near MBK in the 3 to 5 star range I would like to recommend:
1. Wendy House Bangkok – 2.5 Stars
2. Lub D Bangkok Siam Square Hostel – 3 Stars
3. 1 Bed Apartment National Stadium – 3 Stars
4. Holiday Inn Express – 4 Stars
5. Pathumwan Princess Hotel – 5 Stars
I have had visiting friends stay in all of those hotels so I know they are good choices in a prime area. Plus those hotels have plenty of good reviews already.
Out of the list of 5, if you have the money, I recommend Pathumwan Princess Hotel. It's attached right on top of MBK. So you won't even have to step outside.
On a budget? Lub D has a popular chain of hostels in Bangkok and this particular one on Siam Square has really affordable rooms and perfect for families.
So that's my 5 tips on visiting MBK. Plus 5 hotels near a bunch of Bangkok's best shopping centers and just perfect for exploring popular sections of central Bangkok.