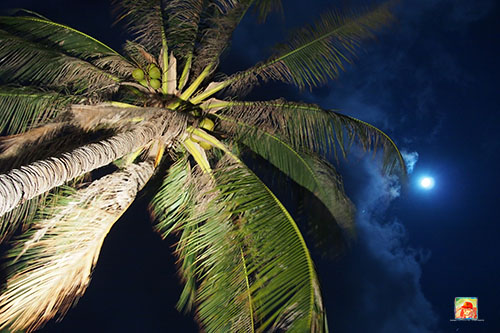 These sets of pics were taken at A La Natu Bed And Bakery at night. It's a clear beautiful February night and the moon is full, out and bright. At the time I was on a beach chair just lounging around after a fantastic seafood dinner. The beach was just a short stroll away so the sounds of soothing waves going back and forth was so gentle. It truly felt like a magical night.
I like the photo below more because you can see movement of the palm leaves. It wasn't windy at all. I rotated my camera clockwise slowly to make that effect. Looks kinda cool to me.
La A Natu Bed and Bakery is one of our favorite places to stay, located in an area called Pranburi which is about a 45 minute drive north to Hua Hin. And the magnificent mountains of Sam Roi Yad which is about 30 minutes away south of La A Natu.
This area is largely undeveloped. For now that is. We saw a lot of signs advertising resorts and other sorts of development in the near future. Which would be sad since there's so much natural beauty in the region.