My usual routine is 6  months in Thailand, from Sept/October to March/April and the rest of the months back in NYC. Even though I mention I have a wife in Thailand I'm not really married… just yet that is… though very soon. So I'm not here on a marriage Visa. But my routine works out quite well.
With a USA passport you get an automatic 30 days or whats called Visa upon arrival. And I guess I could stay in Thailand and exit the country every 30 days and come back to get a fresh 30 day stamp. But that's just too troublesome I think and I don't mind heading back to the NYC to visit family and friends.
Thailand is way too hot when April rolls in which is about the time my tourist Visa expires and I have to head back to the much cooler calm of NYC. I haven't seen snow in 7 years nor felt that biting chill that chews its way down to my bones. I hate the cold. But after living in NYC for most of my life I guess I'm going through a bit of Stockholm syndrome. Because I do miss it just a tiny bit.
So for the past 7 or so years I have been staying in Thailand on a tourist Visa. Back in NYC, conveniently there is a Thai consulate in mid-town Manhattan. The Royal Thai Consulate in NYC handles Visa applications for the northeastern states. So luckily I can just take the subway there and don't have to worry about mailing my passport. So I can pick up my passport the next day with a fresh new Visa stuck neatly to a page on my passport.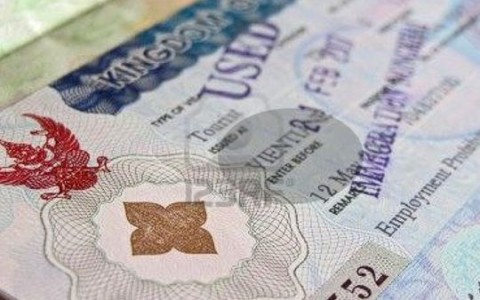 You have 2 options for a Thai tourist Visa:
Single Entry ($40USD) – You can stay in Thailand 60 day consecutively. If you're in Thailand with a single entry Visa and leave the country in 20 days then you've lost out on 40 days.
Double Entry ($80USD) – With this you can stay in Thailand 120 days consecutively. Like single entry if you leave earlier then intended then you've lost on days that are unrecoverable.
Technically when you apply for a double entry Visa in the States you only can apply for 120 days. So each entry you automatically get 2 months stay. And 2 entries is the maximum you can apply for. As of writing each entry cost $40USD so I paid a total of $80USD  fee. Yes, the maximum is 180 days stay with the tourist Visa.  So you have to apply for 2 separate 1 month extensions at any Thai immigration office in Thailand. I always go to the Bangkok Thai immigration office in the Chaengwattana area.
So after the first 60 days is over after the first entry I have to head to the immigration office, apply for a 30 day extension which cost 1900THB and about 2 to 3 hours of time. Get this, after my 30 day extension is over, I have to exit Thailand.
I can come back to Thailand the next day where the airport's passport control will set my 2nd entry where I can stay again for a consecutive 60 days. Once those 2 months are over I have to again head to the immigration office and pony up 1900THB for the 30 day extension again. After the 30 days on the 2nd extension are over I head back to NYC. But I usually stay a little longer at the country that I'm transferring on from my flight from Thailand. Usually Hong Kong, Seoul or somewhere in Japan.
I know for some that can be a little irksome. Why pay for a  double entry visa to stay in Thailand, yet have to leave the country after 3 months and come back?
I suppose I don't mind going through that routine because it gives me a good reason to visit the countries surrounding Thailand.
A few tips on Thai tourist Visa is it becomes active the day it gets placed in your passport. And there is an expiration date which is 6 months after the date it's placed on your passport. So plan your flight schedule accordingly.
Finally make sure you fill out the Thai immigration card that gets handed to you on your flight before arrival to Thailand by filling in the Visa number section.
Because when you get to Thai passport control, the officer will not assume you have a tourist Visa, unless you fill in the immigration card appropriately then they will know you've got one and look for it on your passport.