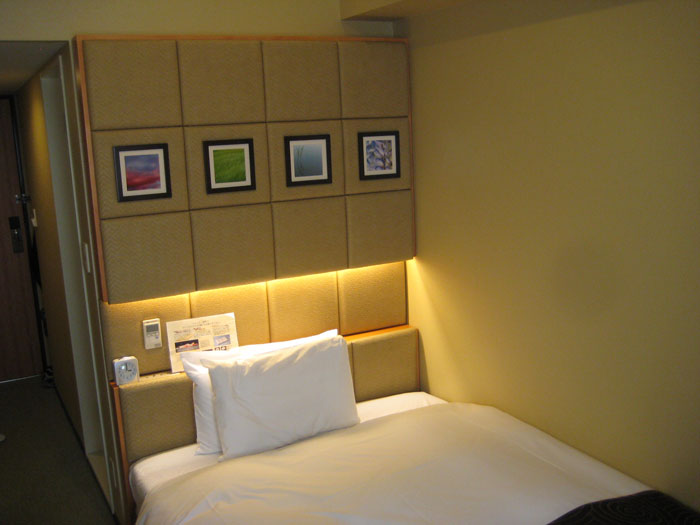 Hotel Sunroute Higashi is located in Shinjuku district of Tokyo. Like a lot of hotels in Tokyo a Metro subway line or JR East train station is not far away. This is one of the reasons why I chose to stay at this hotel. And also, it's one of the most affordable business classed hotels that I know of.
And the area is quite nice as well. A Korea Town is located just five minutes walk due east from the hotel. Plus you can walk to the main hub of Shinjuku station and passing many high end shops and restaurants along Yasukuni-Dori Avenue. in about 25 minutes. And if you love those little tiny Japanese bars with colorful patrons then you might want to check out Golden Gai that is about a 10 minute stroll too. Golden Gai isn't exactly a red light district but if  a red light district you're looking for then head over to Kabukicho, about a 20 minute walk east or just north of Shinjuku train station.
Also from Hotel Sunroute's doors you can walk south along Meji-Dori Avenue and reach beautiful Shinjuku Gyoen National Garden in around 30 to 40 minutes. And from there I've even walked down to famed Harajuku fashion district and Meiji Shrine in 20 minutes. You can hit up a lot of popular sites and attractions in the area without stepping foot on a train if you've got the time. Of all the times I've visited these places the weather was always perfect and beautiful. Which just makes it better when you're out and about exploring.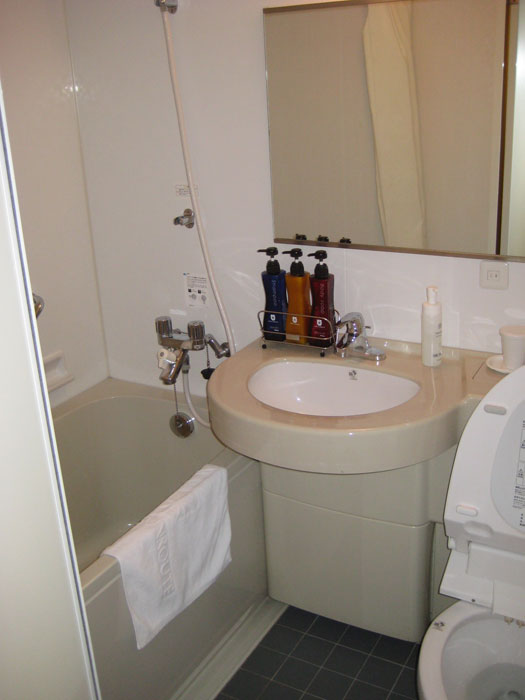 Hotel Sunroute is one of the biggest hotels in the area with about 300 rooms. And like any other 3 star business classed hotels in central Tokyo this hotel is basic, meaning no gym or swimming pool. Though there are a couple of computers for guests to use in the lobby. But the hotel provides guests with free in room Wi-Fi internet access. Plus there's even a cable for LAN laptop hookup.
The room that I stayed in was clean and even though the hotel was built in 2007 I think the rooms must've gone through a renovation process because it looked modern and up to date. One thing I really like though is the mattress. It was so comfortable I slept like a log. A lot of hotels I've stayed in Tokyo have beds that are way too soft. It's not a big mattress though but it's just enough for two people because the room I booked was a semi-double.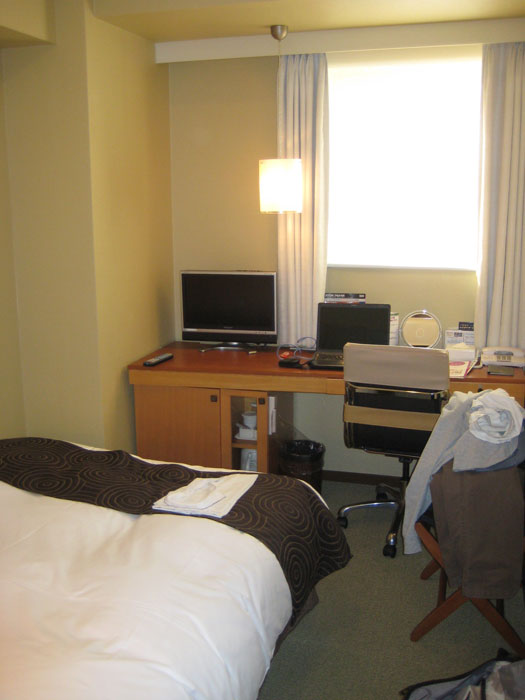 And like any other typical Japanese hotel the rooms are small because they are meant for travelers on a short trip for business. So for tourists a semi double room could bit tight if you've got lots of luggage. Though if you can book a room with two twin beds you get a slightly larger space.
The bathroom is small and tight too but just like the rest of the room modern and clean. There is a small bathtub but even a 6 foot guy like me could fit inside as long as tucked my legs a bit.
I've stayed at this hotel a couple of times, especially when I come across some good deals. The lowest I've paid per night was about $118USD per night in March. Not really cheap but considering it's Tokyo it's not super expensive either. I really like this hotel a lot because the immediate area is quiet but you'll still be near restaurants and convenience stores to grab food and drinks.
Here's What's Around Hotel Sunroute Higashi Shinjuku Hotel
Higashi-Shinjuku Subway Station (located right under the hotel with an entrance on the south entrance of hotel).
Golden Gai – A very popular spot with private bars. But you can find some bars welcoming foreign visitors.
Korea Town – Lots of Korean restaurants.
Kabukicho – Shinjuku's red light district
Isetan Department Store – Just a 20 minute walk south. Get to the basement food level by 7pm for excellent sushi sold at a discount.
Find discounts and read reviews for Hotel Sunroute Higashi Shinjuku.