The Izumi Hotel – Just One of Many Two Star Budget Hotels in KL
I've come across the Izumi Hotel name quite a few times while searching for budget 2 star hotels in the Bukit Bintang neighborhood of Kuala Lumpur.
So this time I decided to book a room at the Izumi for a couple of nights so I could do this review.
Bukit Bintang has tons of budget hotels and guest houses. But the Izumi is in a pretty good location. Just a short 5 to 10 minute walk from Air-Asia Bukit Bintang KL Monorail station.
And there are so many shopping centers, restaurants and nightlife to enjoy also within walking distance near Izumi Hotel.
Bukit Bintang's famous Jalan Alor food street is about a 10 minute walk and you'll also find many bars and pubs as the area is quite popular mostly with tourists.
I always tell fellow travelers that Bukit Bintang is a good choice for budget hotels and the Izumi Hotel is a perfect example.
Two Stars But Nothing More
The Izumi Hotel is a 2 star rated hotel at most. On some hotel booking websites I see it rated as 3 star hotel. Not sure where that extra star came from but whatever.
There is nothing wrong with 2 star hotels in my opinion as long as they're clean and comfortable.
As in the case of Izumi Hotel I like it because it's clean, comfortable and modern. And the hotel is relatively new because the Izumi Hotel was built in 2014.
That said, you're always going to find minor faults at any budget hotel in KL. In the instance of Izumi there were small reddish brown stains on bed linen. Some of the bathroom fixtures looked as if it needed some screw tightening.
Pretty much every budget hotel I've ever stayed in KL have some sort of room maintenance issue and stains on bed sheets. It just comes with the territory I suppose.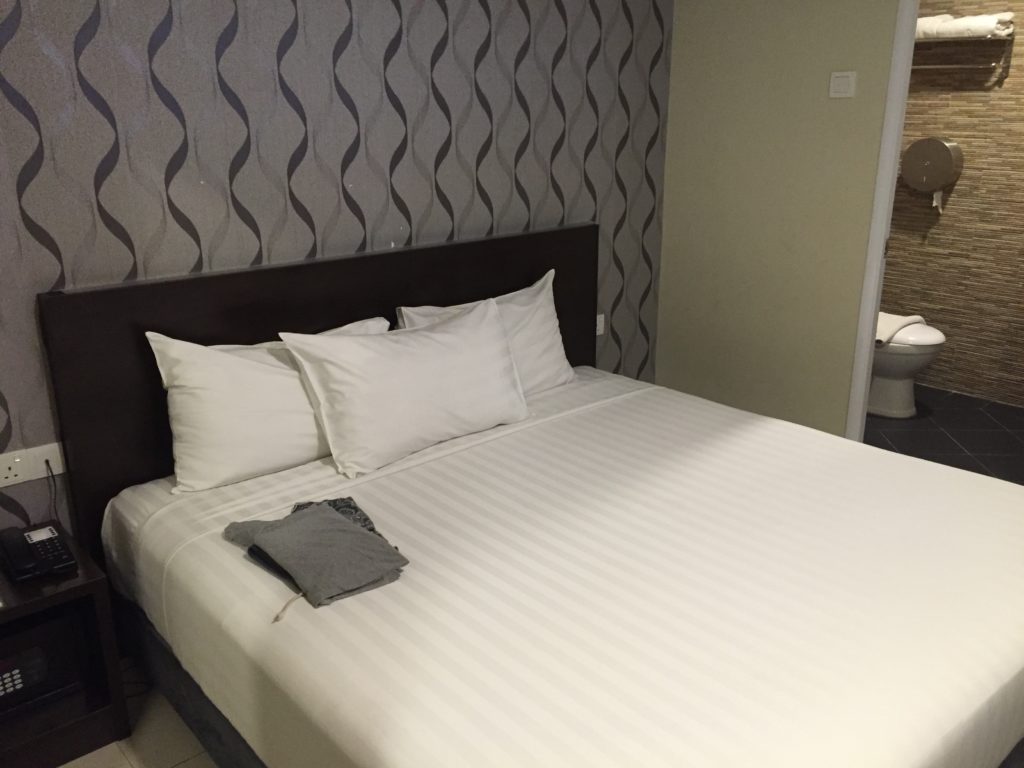 Take a look at my reviews for Sky Hotel Bukit Bintang and Hotel Capitol that are all in the vicinity of Izumi Hotel. All have the same particular faults but not a big deal really.
Location, Location, Location
I can easily recommend Izumi Hotel to anyone visiting Bukit Bintang. It's at a great location near KL monorail stations. Plenty of food option from Indian, Malaysian and Arab. Lots of shopping centers if that's what you're into.
What I do like is a good massage and there are plenty of massage shops near the Izumi Hotel.
And I paid about $40USD including taxes for the night. No breakfast. But the free Wi-Fi worked pretty well and the air con kept me chilly. And the bed was comfortable as long as I stayed away from the side with the stains.
Overall I can easily recommend the Izumi Hotel as one of the better budget hotels in Kuala Lumpur.
Click to Check Rates and Read Reviews