Just like Bangkok's MBK Mall, everyone knows about Chatuchak Weekend Market from their basic travel research about Bangkok. CWM is supposedly the largest open air market in the world, even though a vast majority of the stalls and shops are covered with aluminum roofing or large swaths of tarp. CWM is the place to find clothes at a good price, cheap food, cheap souvenirs and many funky stuff that you probably can't find anywhere else.
But during most times of the year, CWM is hot like hell. And it doesn't help that you'll be rubbing shoulders thousands of visitors and locals. With all that body heat a 100 degree weather cooped up in tiny cramped alleys it can easily feel like a 150 degrees.
So whenever I'm in Chatuchak area I always like to head over to a little mall called JJ. It's located by the southwest corner of CWM. You can't really miss the mall since it's one of the tallest buildings by the market. JJ Mall is not the newest or latest but it's AIR CONDITIONED.
And better yet it has CLEAN BATHROOMS. I really don't mean to be so over dramatic but at my age those are 2 very important criteria.
There is also a big clean food court with some awesome rocking oxtail soup and curry chicken on yellow rice!
There's only 3 floors with a lot of products similar to what you would ordinarily see at the larger weekend market. But inside the mall you will see more shops geared towards the locals. I came across a few shops selling door locks, large safes with electronic and traditional security measures to fingerprint scanners.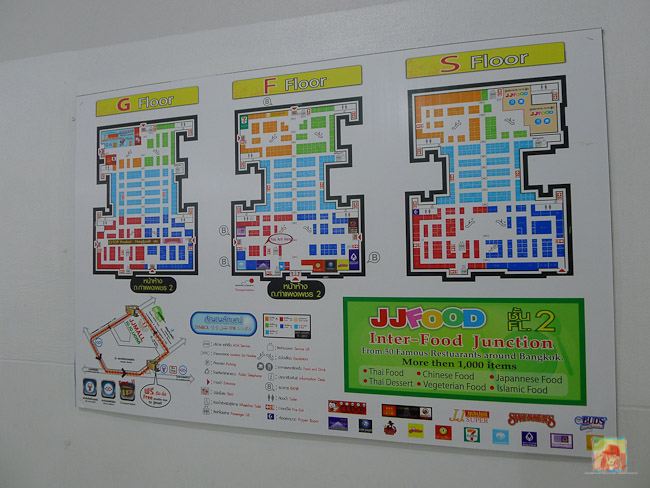 Loads of shops also selling furniture too on all the floors. Though I'm trying to figure out why many shops inside are selling gaudy Roman styled statues, columns and giant Greco-Roman inspired  furniture. And those shops have been there for years so somewhere out there are many Thai homes decked out like Caligula's abode.
And there are many wedding supply shops as well. A recently married friend of mine came to JJ Mall to pick up wedding trinkets to hand out to guests. Apparently many locals come to the mall to do the same for their wedding day needs.
Lots of shops selling camping equipment can be found too. Been always thinking about camping out somewhere in Thailand someday so I'll be heading back to those shops when the need arises.
Prices at JJ Mall are slightly higher but not by so much. Because shops inside still have to remain competitive with the shops on the outside. And you can still ask for discounts too. Though JJ Mall is opened everyday. I heard that the prices in the shops go up during weekdays when Chatuchak Weekend Market is closed. I honestly don't know if that's true. Because a lot of shops inside don't have fixed prices so I guess shop owners' will interpret the cost on the fly. For me, it's just a tell tale sign to bargain a bit harder for the best deal.
Getting There:
The mall opens at 10am and closes at 10pm everyday.You can easily wrap a visit to Chatuchak Weekend Market and JJ Mall in half a day. Though it's probably better to visit the latter just to cool off. The closest MRT subway station is called Kamphaeng Phet. Make your way out to exit #2 and you'll end up on the southern end of CWM. When you head into the market you should begin to see JJ Mall, it's the tallest building within Chatuchak, which is about a 5 to 10 minute stroll.
You can also get there by BTS at Mo Chit Station but requires a longer walk. There's also the bus option too so here's the info on which buses to take.