I'd be the first one to say that I'm not a professional photographer. And I'm not going to pretend to be one either. I'm an enthusiast/hobby photographer. I love just going out and taking pictures even though I have a basic grasp of the mechanics of photography. I am learning bit by bit however and to this day I shoot my photos confidently without setting my camera to full auto. And my real inspiration comes from following just a few photo bloggers like Robin Wong and Luke Chua.
Like me they are not self proclaimed pro photographers. From checking their blogs and especially admiring their well taken photos you could swear they were born with cameras attached to their hands and a lifetime of photography knowledge and experience in their hearts and minds.
I'm not a total newbie though. For a short while in my mid 20's I was really serious about photography. So back in the days I took a lot of photos that involved rolls of film. Anyone reading this and is young enough to not even remotely remember what camera films are I want to say you are all absolutely lucky bastards. Taking photos using film and slide film suck. I bet there are a lot of people in my age group who have used film strongly disagree with me. To that, I say you're all nuts.
I had a Canon EOS SLR system, not a top notch piece of gear but I spent little over a $1000 bucks back then on gear. But spending that much on camera gear is not that bad. What's worse is having to pay someone to get your film and slide processed. It's not cheap. I can't remember off hand how much I spend all those ages ago on processing but I can easily guess about twice as much as I spent on my Canon SLR equipment. So to all the budding photographers out there today you have no clue how good you've got it today.
When I started traveling around Asia I actually sold off my SLR.  Right at that time small little digital point and shoots were slowly streaming out into the mainstream market. I picked a 4 megapixel Canon camera, can't remember the model but hell, taking pics was a joy since I didn't have to be burdened with an SLR. Gradually, as the tech of most cameras eventually became better I stuck with a small Canon Powershot SD1000 which had a 7 megapixels. It had a small zoom range but it was a really pleasure to use and believe it or not I had it with me up until 3 years ago going. Nope, I'm not putting up my SD1000 for sale on eBay, I've got too much sentimental value with that baby.
The Powershot SD1000 was perfect for me at the time. I could shove it in my pocket and barely feel it's with me. And for around 2 or 3 years it was my only camera and I was content. Until one day. While in Tokyo I came across a beautiful park and as I was strolling around I saw a pack of serious looking photographers facing a pond. They looked like the special forces of the camera world and they were all decked out with some serious camera gear. All of them were focused somewhere in the middle of the pond and ever so often I would hear the clatters of a DSLR clattering away on burst mode.
There was a foreigner standing on the other side of the small pond and he was watching them as well. So I went up to him and asked what's going on and he points to somewhere off the center of the pond and says there's a small bird.
The bird is called the Kingfisher and quite rare to see one especially in that particular park in the middle of Tokyo. You can find some excellent photos of a common Kingfisher in Japan here taken by a photographer Martin Bailey. Please check out his website and then take a look of my photo of a Kingfisher below.
Yup, Michael Baily's photos of the Kingfisher are obviously way better than mine. On his photos you can at least see the bird's tiny eyes and beak.
So that was the defining day that I decided I needed to retire my faithful SD1000. No, it's not because I love taking pictures of hard to find birds. It was a wake up call that I needed a camera with a little more oomph… because originally my philosophy for taking photos was to get close to the subject. Like famed photographer Robert Capa once said "If your photos are not good enough than you're not close enough". And I took that quote to heart especially at the time when I was mainly focused on street and travel photography. However, it's only practical assuming you can easily traverse the distance between myself and the subject.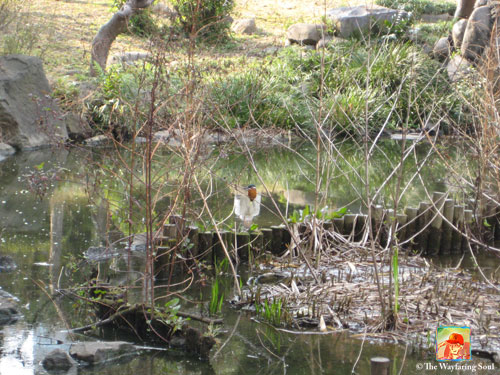 So in this case, with the SD1000 in hand I would have to walk on water like Jesus or get wet up to my waist and look like a fool to get close without scaring the Kingfisher. I made a promise that day that whenever another rare moment occurs I want to be ready.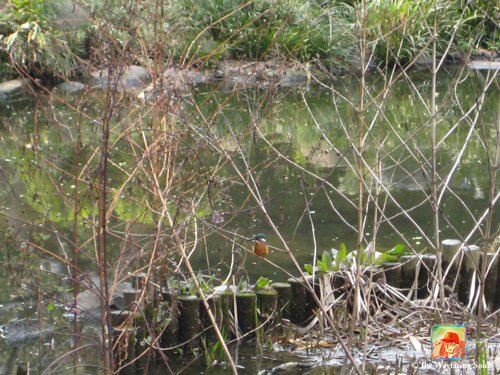 Today as I have more free time to travel around I've branched out to taking a lot more candid street shots. I also started taking a lot of pictures at night, particularly night markets in which Asia is so abundant of. And as you can see on this blog I also take a lot of photos of dogs and cats. So I needed a camera that was quick to focus, useful in low light situations and easy to use. Most importantly, I wanted a camera that won't weigh me down.
Luckily, at that point in time a new system of cameras was emerging, called the micro 4/3 system or mirror-less cameras. In a nutshell this means that there are compact cameras that are almost on par with larger advanced digital SLR cameras. So not only are micro 4/3 cameras smaller so are the lens too. So I can merrily snap away photos knowing that my gear is adequate and not worry about lugging around a big ol' camera and heavy lens.
So I was researching on which micro 4/3 system to get and at the time. I really didn't want to spend too much either. For one reason or another the Panasonic Lumix GF2 caught my eye. And on lens research I learned that the Panasonic 20mm f1.7 produced brilliant photographs at an affordable price. So I bought the GF2 body used off of eBay but the Panny 20mm I bought brand new from a local camera shop in NYC. Now I also needed a small camera with a zoom lens so I purchased the Panasonic LX5 brand new as well.
I left my GF2 with 20mm lens back in Bangkok but I still have my LX5. Most of my pics found on this blog were shot with the GF2. For for several years both cameras served me well. But today, there are a lot more better micro 4/3 cameras on the market.
Like the Olympus EPL5 I bought off of Amazon.com. I purchased the body only which cost me $550 but as of writing you can get the EPL5 with 14-42 kit lens for the same fricking price at Amazon.com. The price dropped only a few days after I received it. Son of a bitch! And from hindsight I should've bought the body and kit lens together. I went for the body only because I also purchased the much raved Olympus 45mm f1.8 also from Amazon. But because the lens order was being fulfilled by a third party vendor the camera body arrived first. So for several days the Oly EPL5 is sitting on my desk all cold and lonely. And I really wanted to try it out especially during this past weekend where the NYC Auto show was taking place at the Javits Center. Which really sucked because to me it was like having a brand new car but there's no wheels for driving around.
One thing that I learned about photography from a philosophical standpoint is patience. A lot of people are not aware that taking a well composed picture with emotion means standing at a certain spot for an hour or more. Sure, interesting quick candid shots can be as easily accomplished by being right there at the right time. But a vast majority of the 'wow' and 'whoa' photos were snapped by photographers who waited and waited for that crucial moment and time, ready to push that button and freeze a scene to make oneself proud and share it with the rest of the world.
Obviously patience is not my thing. I didn't need the Oly just yet since I take a vast majority of pictures in Asia. And I'm not heading back to Thailand for another 3 months. Which meant that there could be a further price reduction before I board that plane. Looks like I still have lots to learn.
**UPDATE**
So I finally received my Oly 45mm lens so I'm testing out the EPL5 now. I have to admit there is a learning curve I have to get through after using the Panasonic Lumix GF2 for many years. But so far, it seems like the GF2 is more user friendly. This is my initial feeling so maybe after going through the manual a few times over I'll have a better grasp of my brand spanking new camera gear