Is a pulse and a measly 20THB. As you all may know by now the wifey and I opened up a small cafe. We got our lease/contract from our landlord so we made our merry way to the local Thai government business registry office. It's a big office building but totally nondescript because it's down a soi. Taxi drivers seem to not have a problem locating it because it's such a well known government office.
Anyways getting our cafe registered took less than 10 minutes. And it only cost 20THB, less than a $1US. Well if you count the photo copies I had to make of the contract and my wife's Thai ID card the cost is actually a little over $1US.
I remember about 5 years ago it cost me $200US just to register and incorporate a business. And I had to wait about a week.
Not that I was rushing at the time.
But it's a bit amazing to me on how fast we could open up shop. Hell, we didn't even have our legal papers the day we opened up until now. Back in the good ol' USA that just wouldn't fly with the authorities including Mr. Taxman.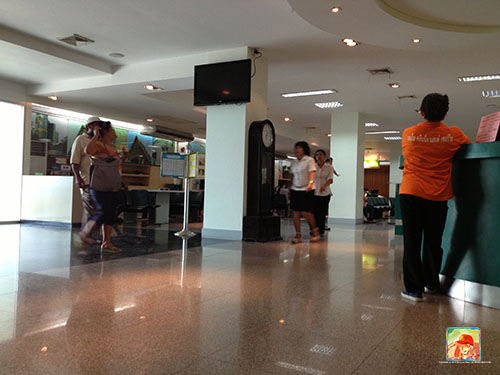 Speaking of taxes, since we're a small business we don't even have to pay any taxes. I'm not knocking the US. I love my country. But sometimes the rules and regulations for the little guys can be overwhelming.
I remember a good buddy of mine who opened a bakery forgot to renew his business registration. The penalty for that tiny mistake was a little over a $1000US. That's just plain nuts. And business was a little slow at the time for him so it was a big hefty chunk of change to hand over.
So far business for us is picking up slowly. We have our up and down days.
Part of my big challenge here in Bangkok is the bakery. I'm experimenting on a lot of different recipes and learning along the way that Thai people like their desserts to be soft.
What does that mean? Well, they don't like chewy foods especially chewy desserts. So I'm looking into recipes for soft cakes and breads. Maybe they'll like puddings too?
I'll put up a pic of my shop after I pick up the painting we paid a painter to paint. I also want to buy some paper mach cats. But it cost about $35US for a big one and the smaller ones cost about $10US each. They'll look good in my shop but man paying that much for paper art is not easy.