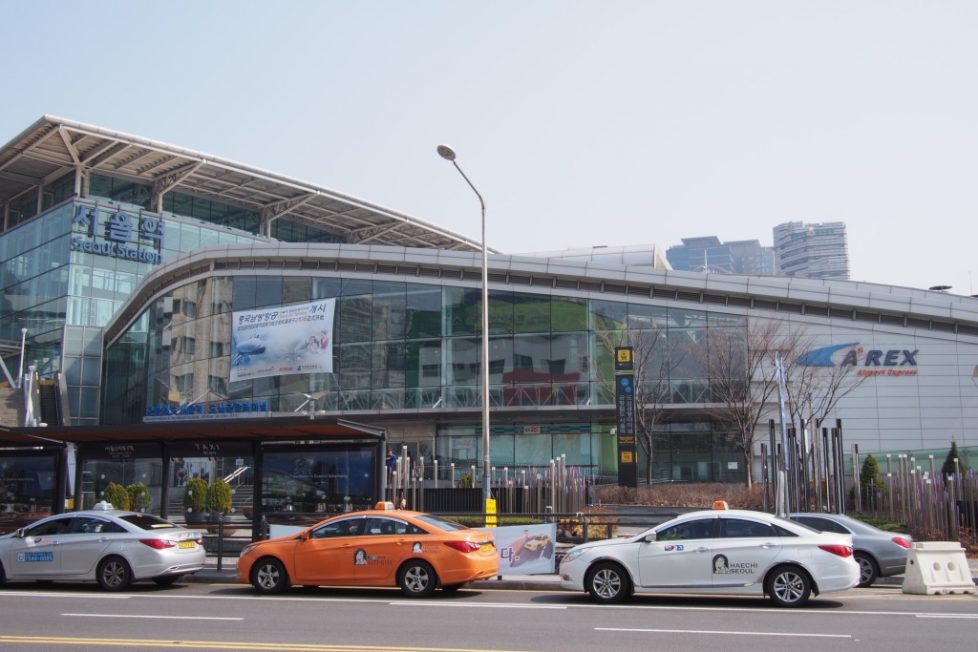 If You're Flying Korean Air, Use the AREX
The AREX station building is conveniently attached to Seoul Station, the city's main train station hub. So it's very easy to find. Plenty of signs are around to guide you to the right direction for the city's express train to Incheon Airport.
When it's time for me to head back to Incheon Airport to catch my departing flight I always take the Airport Express train (AREX). Because I fly Korean Air, as a passenger there are some advantages when using the AREX to get to Incheon Airport:
There are Korean Air check-in counters at the AREX station called the City Airport Terminal
There is an immigration office next to the Korean Air check in counter
Normally, an AREX fare cost 8000KRW. For Korean Air ticket holders the cost is 6900KRW
Perhaps one of the biggest advantage while checking in at Korean Air counter is you can drop off your check in luggage.
The City Airport Terminal inside AREX Station
For me, I usually choose a night flight out of Seoul, so that I get a full day to spend more time in Seoul. And the hotel I normally stay in Seoul has a 11am check out time. So instead of leaving my luggage at the hotel or even worse lugging it around to explore Seoul further I can just check in and drop off my luggage. But I also like the fact that there is a Korean Air check in counter because I can request aisle seat near the exit row. I call it first class leg room in economy.
Also, you can save more time by using the immigration office which is located right next to the Korean Air check in counters.
The immigration and passport control at the departure section of Incheon Aiport is full of travelers especially evening times. And factor in the wait time for passenger security checks.
By going to the immigration office inside AREX station you don't have to wait on those long lines. You simply go through the entrance designated for pilots, flight attendants and diplomats. You've probably seen those lines before and know those are considerably much quicker than queuing up at the normal passenger lines.
AREX is Fast and Efficient
The AREX runs every 20-40minutes and takes 43 minutes between each station. And there's even free Internet Wi-Fi access too with stable and strong connection!
First AREX train leaves Seoul Station at 6am
Last AREX trains leaves Seoul Station at 10pm
For a complete train time table schedule check out their the AREX official website here. Because everybody's travel time is different I recommend you go through the information at their official website and find any information that may pertain to your particular travel itinerary.