Last December my wife and I made a trip over to Hong Kong. Since I hadn't been over in Macao for a long while I figured a visit is long over due. This was sort of a Christmas holiday getaway so hotels were a more on the pricey side this time of year.
But it's okay. A good treat once in awhile is good. I chose the Sheraton Hotel located in an area called Cotai Central. This area is on the island section of Macao, not on the peninsula. There's an airport not far away though we took the ferry boat from Hong Kong.
The Sheraton Macao is rated as a 5 star hotel, built in 2012. No surprise at all really as it's one of the most well known chain hotels in the world. And my wife and I were excited to go check it out. I've heard Macao had really changed a lot since many big named hotels and casinos have moved in.
When we arrived at the hotel via the free shuttle bus near the Macao Ferry Terminal I saw this huge massive building the driver was pulling into. I soon realized when I got in that there were in fact there were 2 other hotels besides the Sheraton.
There's the Conrad Hotel which is located in the middle. Then there's the Holiday Inn located on the east wing and the Sheraton Cotai is on the left wing. This huge massive complex houses restaurants and tons and tons of shops, particularly jewelry shops and other high end luxury item boutiques. Funny thing is I don't see people inside those shops. I really wonder how they make money.
The line was a little bit long as there were many guests but checking in was quick so the line moved pretty fast.
I booked a deluxe room and it was quite spacious. No surprise that the rooms are modern in design with a panel to control the lights in the room by the bed. There's a big work desk and a nice small sofa on a corner. Internet access was free with both Wi-Fi and LAN connection, both are fast. Guests have access to Wi-Fi internet access all around the Sheraton's property which was handy.
I forgot which room we got but it was pretty high up. I was hoping for a room with a  view of the main road but instead we got the backside. With all the progress going on in Macao I wouldn't be surprised in a few years there will be buildings taking up all those vacant spaces.
As the deluxe room is 42 square meters it's a big room. Bathroom has a separate shower stall and a bathtub and on the other side is the toilet all by its lonesome self.
When we booked our room it also included breakfast. And Sheraton buffet breakfasts are legendary. Because there are a large volume of guests Sheraton Macao you'll get breakfast vouchers for either Xin an Asian theme restaurant or Bene which I'm guessing Italian themed restaurant. We got the breakfast vouchers for Xin.
At Xin you'll find Asian fare for breakfast such as congee, steam rice rolls and even egg noodles with wonton. But you'll also find Western styled breakfast too like scrambled eggs, bacon, waffles and so on.
But we also wanted to check out Bene too. So my wife and I decided to just try and see if we can get in and we did with no problem. Because we already saw that Bene was a much larger restaurant the morning before when we had breakfast at Xin.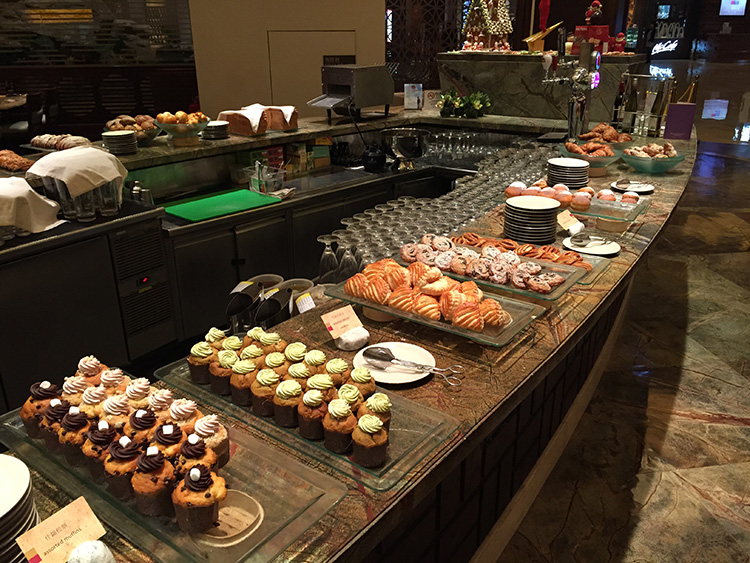 Bene definitely had more choices as it was a bigger restaurant. So much food. So little time. I did my best to sample a little of everything as a I could and paid the price dearly. I could barely walk out of the place. Luckily we did a lot of walking around while in Hong Kong as well as Macao to burn off all those extra calories.
And there are a lot of places to walk around in Cotai Central. For example you can walk across the road via a walkway connecting the Sheraton, Conrad and Holiday Inn hotels to the Venetian and Four Seasons.
At the Venetian there's a man made canal with gondolas passing by. And lining the canal area heaps of shops selling luxury handbags, clothes and accessories. My wife did a little bit of shopping herself and I as usual had to carry the bags.
Our stay was quite enjoyable at the Sheraton Macao. It truly is a 5 star hotel from the super friendly staff to the quality of the rooms and guest amenities. As a guest you get access to some top notch facilities too. I used the gym with some very good equipment but because it was December and the weather was cool I didn't have a chance to check out their awesome huge swimming pools.
Read guests reviews and find discounts for Sheraton Macao Hotel.