From Where to Book Your Phuket Tours to Travel Insurance – I've Got You Covered Here
Unless you've got yourself a catamaran courtesy of your trust fund or a Bond villain style speed boat parked somewhere along Thailand's Andaman sea, you're going to have to join a tour group to explore the beautiful islands and beaches of Phuket (ภูเก็ต).
Phuket is the largest island with 32 smaller islands that require hiring a boat or joining a tour group for day trips.
On this post I'll point out the benefits of booking Phuket tours online versus booking tours on Phuket island. And if you're accident prone I'll let you know what's included in Phuket's tour operators' insurance coverage. Which is important to know if you're keen on being an adventure tourists.
A visit to Thailand's famous Phuket island is on most tourists must do list. Joining an island and beach hopping tour is the best and most convenient way to explore Phuket and its beautiful surroundings.
Plenty of perks for joining tours. A driver picks you and your fellow tour mates up from your hotel and drop you back off at the doorsteps of your hotel. Lunch and refreshments are included. Even snorkel gear as well as life jackets are provided in the prices.
Actually, it's better to bring your own snorkel gear because the ones tour guides provide are reused.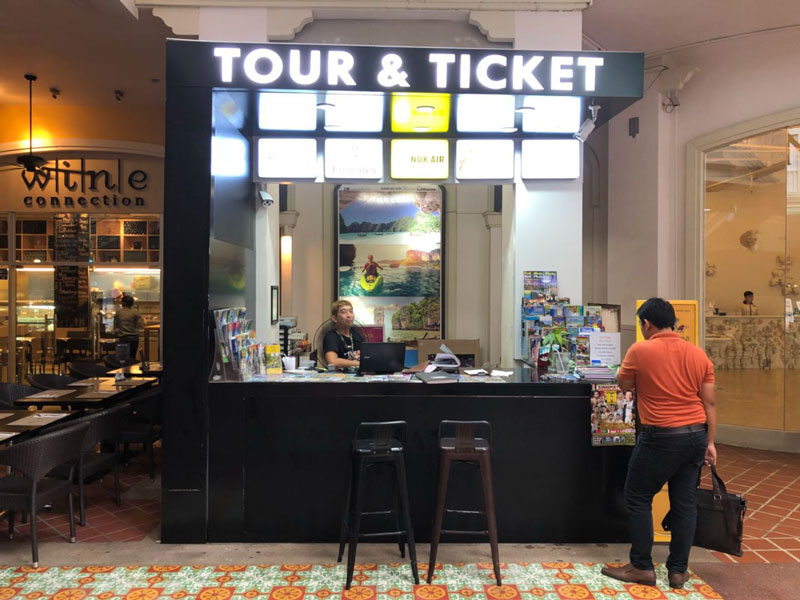 Like most things in life you get what you pay for. There are private yachts you can hire outright. But for me, like most folks, I'm looking for the best valued tour in Phuket. Which is a polite way to say I want a lot but I want to pay a little.
Well in this little guide here I'll show you how to pick em' and where you shouldn't be booking your Phuket tours. But here's a little nifty tip from your buddy the Wayfaring Soul:
Wayfaring Soul Tip #1901 for Booking Phuket Tours

"The bigger the boat, the cheaper the tour price. The smaller and faster the boat, the more it'll cost."
Smaller boats are more specialized because there's less passengers, but they cost more. They can navigate to certain parts of islands that are quieter and less frequented. Less people the better and that's the way I like it.
Bigger boats that fit more passengers don't have much flexibility because they can't stop at certain locations due to the size of the boat. However, because there are more people sharing the boat the cost per passenger is cheaper.
"Booking a Tour in Phuket  Vs. Booking Phuket Tours Online" – Which is Better?
This is a question I'm asked often and sure why not. Who wants to arrive right into Phuket only to find out that the tour you want to join is sold out. And everybody wants the best tour for the cheapest price. Who wants to overpay? More importantly who wants a crappy tour experience?
Which will happen if you book a tour in all the wrong places. Booking day trips in Phuket within your own home country's travel agency is a classic mistake. There's only two things to think about:
How Much Time You've Got Before Arriving into Phuket
How Many People Traveling With You on the Tour
Below, you'll find out where you should book your tours and more examples of where you shouldn't.
Time – You'll Have Plenty of it to Join a Tour in Phuket
If you're like me, a serial procrastinator, you'll be happy to know there are plenty of opportunities to purchase jungle trekking, snorkeling activities and island hopping packages right on the island of Phuket. So it's not necessary to purchase day trip tours outside of Phuket.
But there are exceptions as to why you should book ahead. I'll get into that exception later.
Believe me you'll have plenty of opportunities to buy a tour package if you haven't done so yet. The island is full of tour agencies, tour agents, tour kiosks and tour touts. Airport taxi drivers will try to sell you a jungle trekking tour even though you are deathly scared of large spiders like yours truly.
Stray dogs are tattooed with tour advertisements. You can even buy tours from fruit vendors. Okay, so I'm kidding about the last two. But you get my point.
Here's another scenario. Lets say you arrived into Bangkok or Chiang Mai first and you're concerned that all the island tour operators are fully booked. So you decide to book a tour through the hotel's on-site tour agency.
That action will end up costing you at least 20% to 35% more compared to buying that same tour on Phuket. Hotel tour agencies in Bangkok don't do it for free. And they shouldn't as it's a service they are providing. All hotels in Bangkok or pretty much any other tour vendors in Thailand outside of Phuket does the same.
I don't even recommend purchasing day trip tours inside Phuket International airport. Because renting a location inside is higher so tour operators have to charge a bit more inside.
But we're savvy travelers right? Don't fret, book your tours at Phuket because you've got plenty of time and save yourself some money for a frosty piná colada.
For the Best Tour Prices in Phuket, Head to Patong Beach
So we already established that it's best to buy your tours right on the island of Phuket. To be specific, head to Patong Beach area because there are so many tour operators all selling the same tours but at slightly different prices. Just like it is on the airplane you flew in, don't be surprised that passengers you share boats with paid different prices for the same trips.
The reason why you can get better rates from tour operators on Patong Beach is because that's where the most tourists are wandering around. And tour agencies in that area try to be as price competitive as possible to get your Baht into their hands.
I recommend speaking with tour agencies right on the street level. I also recommend checking prices with at least 3 different stores. Not unless you have all day. Me, I prefer to spend it under a beach umbrella.
Price comparing from three different travel agencies along Patong Beach will give you a general idea for the tour pricing during your visit.
How much can you save from checking around? It's possible that you can save a few hundred Baht, depending on the season, time of day or whether or not a particular tour agency has reached a quota. It's also possible to ask for group discounts.
Whatever you do, do not book a tour that offers an incredible itinerary at a too good to be true price. While doing your price research you can figure out the average cost. If you see a Phuket tour more than half off of everyone else is charging you're probably at a dodgy unlicensed business.
Also not a good idea to have a tour tout approach you out of the middle of nowhere. These guys or girls or ladyboys may not work directly with the tour agency. But rather as freelancers so they get a commission when you book which you end up paying for.
Aside from Patong Beach, I also recommend searching out for Phuket island hopping tours along Bangla Road where you'll find lots of tour agencies as well.
Now about booking Phuket tours online. It's not more expensive than booking on the island itself. In some instances it's about the same price. If you're just with a few people go ahead and book the tour on the island. However, I highly recommend booking tours in advance online for groups.
Book that Tour Online If You're Traveling with a Bunch of Friends
So here's the exception I mentioned before. If you've got a bunch of friends with you on your trip to Phuket then I advise booking online ahead of time. Like anything these days on the inter-web you can purchase Phuket day trips at home in the comforts of your underwear. And the prices online are roughly about the same.
Booking a tour online ahead of time ensures that there's enough space for you and all your friends that want to be on the same boat so you can snap all the group selfies to your heart's giddy delight.
For me, I normally book tours ahead of time when I'm with at least 5 other friends. If you're really popular and have even more friends you might even get your own boat.
There are many reputable online travel tour operators selling all kinds of tours in Phuket from, island hopping, snorkeling, sunrise tours to jungle trekking. I like online tour operators like Viator.com, you check out an example of their James Bond Island tour itinerary.
Another online travel agency I recommend is Trazy.com which has a highly reviewed tour of Phuket's 1 Day Similan Island tour.
Both are big tour operators and the major reason why I recommend them is if there's a problem you know how to find them. For instance if you're back home and you want to complain about something you can write to them, leave a review or a feedback. Plus, they speak English.
Versus booking a tour through a local tour operator you may not want to pay for international calls or have some sort of communication problem. Not that I'm saying local tour operators across the scale are bad.  Just saying things happen and if it does, don't you want to be able to speak to someone you can easily communicate with?
I mean what if you want to cancel a tour and get some money back?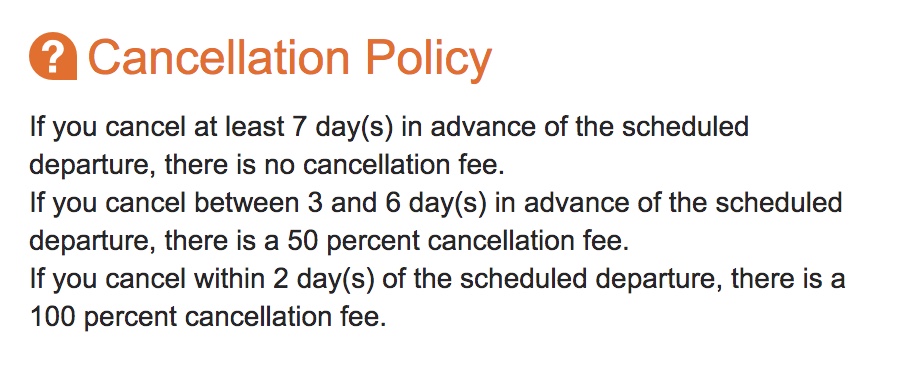 Cancellation policy from a tour on Viator.com, please check all tour cancellation policies as each may be different…
Cancellations and Refunds – Pay for that Tour With Credit Cards
There are a lot of reasons why a tour may be cancelled or why you need to cancel a tour. Rough weather is a big reason why tour operators will cancel a days worth of tours.
Your husband had some bad sushi a few days before arriving into Phuket and don't want to blow chunks on the speed boat. That would be one reason why you as a customer want to cancel and request a refund.
Why should you pay with a credit card? There's several reason but for one if there's a cancellation due to weather and if you paid in cash but have no time to pick it up afterwards then it's a whole lot easier to get the money refunded back to your credit card.
Also, if there's a problem, say if you think you've dealt with a shifty tour operator you can always contact the bank to put a hold on the charge and have the bank investigate.
Lunch on the Tour
If you're booking a full day tour the package will include lunch and even a light breakfast in the morning. Most half day tours include lunch also.  Try and stay away from tours where for lunch they put you into a big shared restaurant. Here's an example why from my last Phuket island tour.
Recently, a large restaurant was made somewhere off island near Phuket where all the surrounding tour agencies shuffle in hungry tourists and serve lunch. There are restrooms and snack shops as well, which is all good.
We were served cold french fries. Some tepid water with root vegetables and chicken (me thinks) that's supposed to be soup de jour. Sweet and sour pork. Or was it chicken? There were a few other Thai dishes but let's not get into that.
There were 8 or 10 tour mates to a table and everyone was quiet. Awkwardly quiet I have to add. Like everyone was thinking the same thing in unison. Where's the nearest McDonalds? We'll swim through shark infested waters if we must.
Is there a chance our tour group's lunch was made by a cadre of less experienced cooks while the real cook was out in the back in the middle of his afternoon siesta enjoying an icy cold beer? Possibly.
So what's the lesson here kids?  Ask your tour operator if they have tours where lunch is served on a beach. Search around until you find an itinerary somewhere specifically stating where you'll be eating.
Remember, all tours are usually priced about the same as advertised by Phuket's tour operators. So why would you want to pay for a crappy lunch and location while you can get something better?
Because I have joined tours where you can dine on the beach for lunch and believe me, it's a whole lot better than eating at a boat pier.
For example here's an itinerary from Viator.com showing their list of pit stops along with other helpful info about their Phi Phi Island Adventure Tour. Too lazy to check the link? Here's an excerpt from that tour itinerary:
"Then, cruise to the white beaches of Bamboo Island. Go ashore for a delicious buffet lunch at an island hotel, and enjoy free time to relax on the beach and swim." – From Viator, Phi Phi Island Tour
Insurance on Phuket Tours – Bad Things Can Happen
Sure, we don't want bad things to happen. But it's still a good idea to have some accident insurance coverage, especially if you're planning on zip lining up in the air and short trekking through jungles filled with monkeys in heat.
Even though all licensed tour operators in Thailand are required to carry insurance for tourists under their charge, it's a good idea to have additional personal coverage. Keep in mind, some tour agencies may charge a little bit extra for insurance to cover children.
Here's a look at one of Trazy.com's Zipline experience in Phuket. It clearly states what's included in the price especially insurance.
Last I checked, in case of an accident, tourists are covered up to 100,000THB. In the instance of death a tourists' estate receives 200,000THB. And all licensed tour operators in Thailand must have insurance as dictated by Tourists Authority Thailand (TAT)
In addition according to this article from TAT the Ministry of Sports and Tourism pays out 300,000THB in case of death and up to 100,000THB for medical treatment.
Phuket Island Tour Operators with Insurance
Nutticha Marine Co., LTD – They have a good selection of on and off island itineraries. Their full day Phi Phi, Maya and Khai Island tour provides a good experience and recommended.
Flying Hanuman – If zip lining floats your boat check out this tour operator. And yes they do have insurance.
Trazy.com – This online travel tour agency provides tours in many countries but has a good selection of Phuket tours at reasonable rates.
While searching for tour operators if you see one that you are interested in but don't see them listing insurance you can always email them and ask if they provide any for peace of mind. Because if they are licensed they are required to provide it.
Because information changes from time to time, and if travel insurance is your concern on any tour excursions in Phuket please contact the tour operator and inquire about their company tour insurance policy.
Final Thoughts on Booking a Phuket Tour…
Booking tours in Phuket is usually smooth sailing (pun intended) as most tour operators on the island are doing their best to provide the best experience for their customers. The locals depend on tourism because it's very important to the island's economy.
I've been to plenty of tours in Phuket booking online and on the island and I have to say all were good fun. Local tour guides spoke English or one other language. Most had a great sense of humor and fun conversations were had. The crews look out for the welfare of the passengers under their care and wants everyone to have a good time.
6 Tips for Booking Tours in Phuket, Thailand
April through October is the monsoon season. Tours during these periods are cheaper. But be sure to have plenty of time in Phuket so you can rebook the next day in case of cancellations.
Patong Beach is the best area in Phuket to find lowest rates on day trips in and around the island. Check and compare with at least 3 different tour agencies on Patong Beach for the best tour rates.
If you want to save a little bit of money don't book from hotel lobby's in Phuket and hotels outside of Phuket. They make a commission which you end up paying a piece of.
For a better experience book tours from well established online travel agencies with reviews of itineraries.
Be sure to read up on tour itinerary, pit stops, what's included and what to expect during a tour.
Pay for tours with your credit card to get refunds conveniently or dispute charges.