There's no other country in Asia that I want to visit more than Japan. I try to visit Japan as much as I can, as frequently as I can and for as long as I can. Here I've put together a little Japan visitor's guide that will give you a glimpse of several popular cities in Japan's Kansai region.
Where is Kansai?
Kansai region is located on the largest island of Japan, H0nshu. If you haven't heard of Kansai region until now then I'm sure you've heard of Osaka, Kyoto and Kobe that are just several names of Honshu's southern coastal cities.
Just for a little point of reference Tokyo is located up north in the Kanto region and Hiroshima is south in the Chugoku region.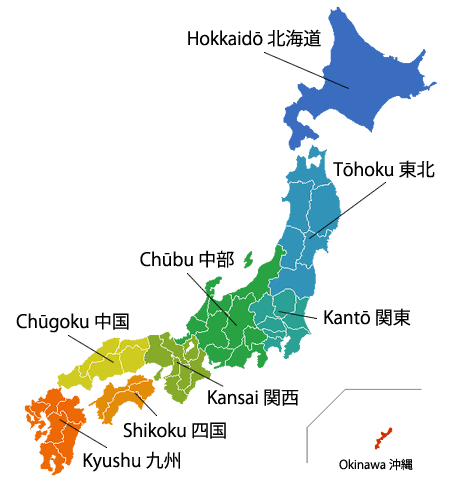 So I'm going to break this post up into 2 parts. This particular post will basically show you what I did after landing in Kansai Airport. Plus you'll find a few Japan travel tips because we all know the country has a reputation for being pricey. So I'll mention in my posts where to find cheapish eats and general tips on finding some good affordable grub.
You Don't Need a Massive Budget to Visit Japan – But It Helps
Yeah, we've all heard that Japan is one expensive country to explore. And I suppose that's one of the reasons why most people don't bother coming here at all. But there are ways to explore Japan on the cheap, or at least affordably, especially if you're planning on visiting the cities of Kyoto, Osaka and Kobe.
I'm based in Bangkok, Thailand most of the year.  So far I've been flying with Air Asia X. They have direct flights from Don Mueang Airport in Bangkok on to Kansai International Airport. From Kansai, you've got your choice of visiting either Kyoto or Osaka first. A round trip airfare cost about $350USD to $400USD. You can find it cheaper air fares though. Air Asia has these crazy limited cheap deals once in awhile but you gotta be Johnny on the spot to catch them. Plus you'll have to have flexible travel dates.
For this trip to Japan I chose to stay in the city of Kyoto. The hotel I picked was Reiah Hotel Otsu Ishiyama (here's a review). But because I arrived into Kansai Airport a bit late in the night I decided to book a room at an airport hotel nearby, the Hotel Nikko Kansai Airport (review coming soon). I was traveling with my wife and she doesn't take to flying so well, even though it was only a 5 hour flight. So a full night rest would do her some good.
Even though it cost $145USD for one night at Hotel Nikko it was worth it. My wife felt better and the sun was out and bright. It was a great morning October morning! Even though the room cost a lot breakfast was not included. Luckily, there is a Lawsons Convenience store downstairs where I stocked up on some sandwiches and green tea.
Go Food Shopping at Lawsons, 7 Elevens and Family Mart
One of the biggest tips and tricks to saving some money while visiting Japan is to shop for snacks, drinks and meals foods at convenience stores. Besides Lawsons, you have a choice of 7 Eleven and Family Mart. All are stocked full of heat and ready to eat meals, breakfast, lunch and dinner! It's not junk food, although if you want it you'll find plenty of junk food as well as healthier alternatives. And you can find anyone of them all over the big cities of Japan.
Even if you can splurge a little on an expensive hotel you can still go cheap on food. At the Hotel Nikko Kansai Airport where we stayed overnight there was a Lawsons convenience store downstairs. There are 7 Elevens located inside the airport so you have plenty of options for cheap good eats.
Japan Rail Systems – Your Best Friend
Next thing I needed to do was get some Japan Rail (JR) train passes. Getting around Japan by train is affordable and convenient. It's not exactly cheap but it beats the hell out of hiring a taxi. Luckily foreign tourists can get discounts on train fare package deals.
A JR ticketing office was right between the Hotel Nikko and outside of the Kansai Airport arrival area, just a short distance away. Even early in the morning there was a line filled with eager recently arrived travelers.
I purchased the 4 Day JR Kansai Area Pass. With this pass I get unlimited rides within 4 days to explore Kyoto, Osaka, Kobe plus all the smaller yet beautiful naturesque towns that Japan is so famous for.
These passes are available in increments of 1 day up to a maximum of 4 days. The 4 Day JR Kansai Pass cost 6500 Yen and that is an absolute bargain. Even though I mentioned I visited Kyoto, Osaka and Kobe I was also able to drop my Himeji where the famed Himeji Castle resides. We also visited Nara too. I wanted to check out Hikone and Wakayama too.
Because there is so much to see in every city we took our time and never rushed. What's the point of traveling if you can't enjoy it all?
If you want to purchase these JR Passes ahead of time you can do so via Japan Rail Pass website. But you'll be paying for Fedex delivery, unless you're ordering $600USD worth of tickets shipping is free. However, ordering your rail passes ahead of time will save you 200 Yen. But I'm sure FEDEX delivery is not cheap.
Since I was purchasing my 4 Day Kansai Area Pass on the spot I paid 65ooYen times two, one for me and one for my wife. And if you are purchasing your passes in a JR rail office make sure you have your passports on hand. These JR rail passes are offered only to foreign tourists. No passport, no passes.
Okay, so you've got your JR passes so you can explore major cities around Kansai area of Japan. But you'll need a way to get around via the local trains. And you'll also need a way to get from Kansai Airport to your city of choice. That's where the Airport Express Haruka comes in to save the day!
Purchase the ICOCA and Haruka Package
This ticket package includes round trip rides on Airport Express Haruka trains which is an awesome way to get out of Kansai airport through Osaka and onto Kyoto. There's a couple of things you should know however…
A Couple of Tips on Riding the Haruka Express
This particular type of Haruka ticket is for the non reserved seat train. So I recommend lining up at the non-reserved seat train unless you enjoy standing. If all the seats are taken there is standing room. The train ride from Kansai Airport to Kyoto Station takes 75 minutes. To Shin-Osaka (Osaka) it's 50 minutes. So get to the train early if you want a good seat to enjoy Japan's beautiful countryside as you whiz by 80mph.
As of writing the last Haruka train on a leaves at 20:15 and arriving into Kansai Airport at 21:43. I'm pointing this out because I once assumed Haruka ran until midnight. So it's really important that you check your trains' time tables ahead of time.
Since I was staying at a hotel off a suburb near Kyoto I had to change trains at Kyoto Station. This station is located in the hub of the city with many points of interest close by in walking distance. Kyoto is one gorgeous city to walk or even bike around. But if you want to get somewhere quicker like the Gion District that is famous for Geishas it's best to use the city buses located outside of Kyoto Station.
We didn't explore outside of the station yet because we still had our luggage. And it was best to check in before heading back out. The hotel I was staying at Reiah Hotel Otsu Ishiyama is located near Ishiyama Station on the JR Biwako line. Which was only about 14 minutes if you take the special rapid train.
There is the Airport bus option which I've heard is cheaper. But obviously bus rides take longer. I don't have any information at all on buses, sorry to say. If you can afford it I would highly recommend using the trains.
So that's all I have to share for now. Like everything else for travelers to Japan you will find it is a super foreigner friendly country. Nearly every major train station there is a tourist center staffed with folks that can speak English fluently as well as other foreign languages. And there are plenty of signs in English too.
I'll be working on my post on visiting Kyoto, Osaka, Kobe and other can't miss spots in Kansai really soon. So stay tuned!