Monkeys, Mountains, Fresh Air and the Open Road
On this trip, I've learned a few things. South Thailand has an abundance of natural beauty. When you get far enough away from Bangkok the air is fresh and clean. I also learned that monkeys can be dicks when you get too close. And did you know monkeys can open plastic bags? I've got a photo to prove it.
Khao Sam Roi Yod is designated marine national park located in the province of Prachuap Khiri Khan Thailand. And there are tons of mountains in the area which is why the Thai name translates to mountain with 300 peaks.
And it's not far at all away from the city of Hua Hin. About a 30 to 40 minutes leisure drive south along often deserted roads. You're going to need your own set of wheels to get there and I'm not talking about scooters. Though a motorized two wheeler is better than nothing at all.
Most of the roads are paved and in good condition. But if you want to go a little bit off the beaten path it's best to rent a truck. Though we got by just fine driving around Khao Sam Roi Yod on our trusty reliable Honda Civic. But there were some unpaved roads that we didn't want to risk driving through. And there were a few roads that were flooded and impossible to get through without an off road vehicle.
Since Prachuap Khiri Khan is largely undeveloped many of its natural beauty has been spared. It's mainly a farming area, particularly shrimp farming. Lots and lots of shrimp farms. There are no big factories for miles and miles away. And it is so green which is a far contrast from Bangkok where I live most of the year. I wouldn't mind living in Prachuap, must imagine waking up in the morning to a fantastic view of lakes and mountain vistas.
Khao Dang Canal
Khao Dang Canal is just one of Prachuap Khiri Khan's natural treasures located by the southern base of Sam Roi Yad. I'll be writing some follow posts on other points of interests soon.
So there is a canal that you can take a tour boat that runs in a 3 kilometer circle. It's a slow boat so the tour takes around 30 to 40 minutes. You'll see large red limestone mountains which is why it's named Khao Dang in Thai.
The boat operator will point out interesting animal shapes that jut out of the cliff face. It's kind of amusing and perhaps just a little bit much of a stretch for the imagination. But if my job was to operate a boat around a canal days in and days out I'd probably be seeing animal shapes on mountain cliffs too.
Still quite a nice boat tour. It was so quiet and the only sounds around us was the boat's motor. We saw lots of indigenous long billed cranes but were too far away for my camera lens to reach.
I really need to get myself a zoom lens. And you see a few local folks fishing on narrow long boats. They looked like hard and weathered folks who've must've been catching fish like this for the longest time.
The water was surprisingly clean. I still wouldn't swim in it but there's not a whole lot of trash floating in the waters like you'd might usually see elsewhere in Thailand. But I've got this strange funny feeling that not a lot of people visit Khao Dang Canal.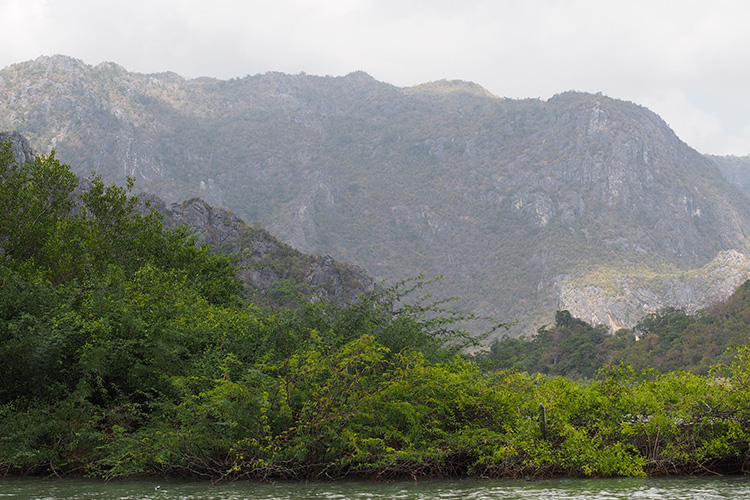 Matter of fact we were the only ones on the boat and there were only a few other Thai tourists at the jetty where the small boats were docked.
Possibly One of the Most Expensive National Park Fee in Thailand
Now, there is a fee for the boat tour and there is a dual pricing scheme too. As a foreigner, I had to pay 500THB. My wife had to pay 200THB. Yes, those are outrageous ticket prices. My wife asked the other group of Thai visitors and they confirmed they paid 200THB per person too.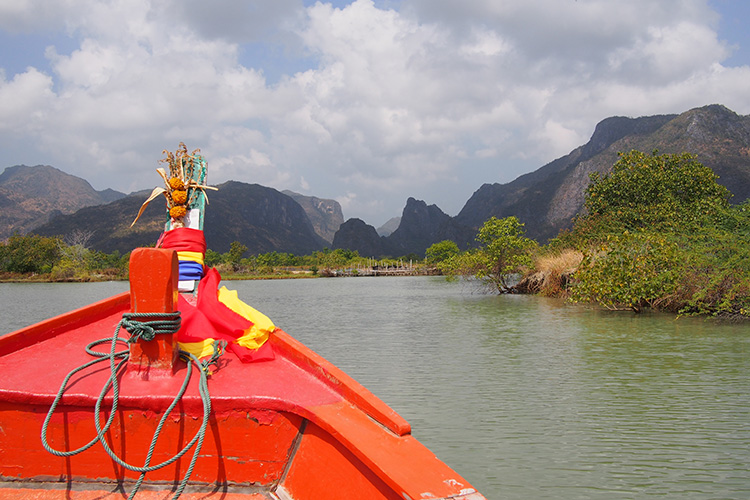 And the prices were not clearly posted anywhere visitors could see. Could the park rangers be taking us for a ride? I really have no clue. But I didn't get dressed and out for nothing. So I pulled my pants down and let them ream me for 700THB. Maybe that's why we got our own boat. It was a consolation prize.
At the end of the tour I tipped the boat operator 100THB. I had a sinking feeling the park rangers won't give this guy a decent share for practically doing all the work.
When Monkeys Attack
There is a temple on the base of a mountain near the jetty for the Khao Dang Canal tour. You can't miss it at all because the temple is quite tall and the mountain behind makes it just more impressive.
It was closed at the time and I really did want to go and check it out. I did see a few monks out and about. While walking around I saw some monks place a lot of fruit on the ground. Soon a line of monkeys started filing in. The monkeys were quite orderly and you'd swear it was like a scene at a school cafeteria where kids are lining up. I wish I put my camera on video mode.
I know Khao Sam Roi Yod is not easily accessible. Maybe that's the reason why there are no scores of tour buses seen driving along the roads. I go there most of the time to take photos because the scenery is simply wonderful. During the golden hours of sun up and sunset the light beautifully bounces of the mountains and lakes.
And I swing by maybe once or twice a year to check out other parts of the national park. You can do hiking, camping and fishing too. If you're the type that likes nature Khao Sam Roi Yod is the perfect national park not far away at all from Bangkok.
Prachuap Khiri Khan province is wonderful and I'm happy there's not a lot of construction there. It would be a shame if huge hotels and condo developers come in and take advantage of the beautiful scenery. But something tell me that won't happen for a long while as there really isn't much infrastructure yet.
If you're planning on visiting Prachuap Khiri Khan there are not a lot of hotels near Khao Sam Roi Yod. My wife and I frequently stay at La a Natu Bed & Bakery Resort and it's not cheap but worth the money because it's right on a beach. A post review of La A Natu will be coming soon.
A cheaper alternative though not as nice but still quite comfortable is Pai Prai Villa At the Plantation which is further inland. A review will be coming soon too.
If you are really set on visiting Khao Sam Roi Yod remember it's probably best to rent a car and drive. I would think that if you're in Hua Hin you could probably hire a taxi driver familiar with the area too. Though I'm not sure how much they would charge but if you've got a lot of people in your group it might be well worth it.