Or Tor Kor Market (ตลาด อ.ต.ก.) – A Durian Aficionado's Heaven
I'm going to put it out there right now that I'm not a huge fan of Durian, the so called "King" of all fruits. I'll eat it a little of it just to satisfy my wife's fruitless attempts to convert me to a durian lover. I don't go bananas over it like most durian fanatics do. You're probably wondering why you should go on reading this?
Because I know there are a lot of people who love this fragrant pungent fruit. So I've asked friends, friends of friends and associates where they go for the finest most rank smelling durian in Bangkok, regardless of season.
And the majority tell me they head to Or Tor Gor, a popular farmers market where Thais with cash go to get their durian fix. It won't be cheap. But if you love durian more than I love a juicy ribeye steak than something tells me you won't mind spending some cold hard Baht.
Or Tor Gor is a popular and easy to reach market that is still off the tourists' grid even though it's a measly 200 meters from the southern entrance of Chatuchak Weekend Market. And JJ Mall is about 400 meters away near the western entrance of Chatuchak. So there are quite a few spots to visit in a day if you're in the area.
This wet/dry/food market is well known to Thais with cash and can buy the best and freshest fruits year round. But there's more to this place than high quality fruit including the best durian found in Bangkok. Aor Tor Kor has a food court with a wide variety of familiar Thai favorites and classics such as som tom, grilled giant prawns and many other prepared foods you can take back to your hotel room.
But do remember that hotels don't allow guests to bring in durian. Even BTS and MRT stations have a strict no stinky fruit policy. If they see you carrying a fresh bag of durian they will deny you entrance. And the guards do check, particularly at the Kamphaeng Phet MRT station near the market.
It's all about the Durian Baby
There are at least 6 or 8 shops that sell durian year round inside the market. However, the best time to indulge and buy with decent prices is around the months of July and August. Although the official season for durian in Thailand runs from late months of April through September.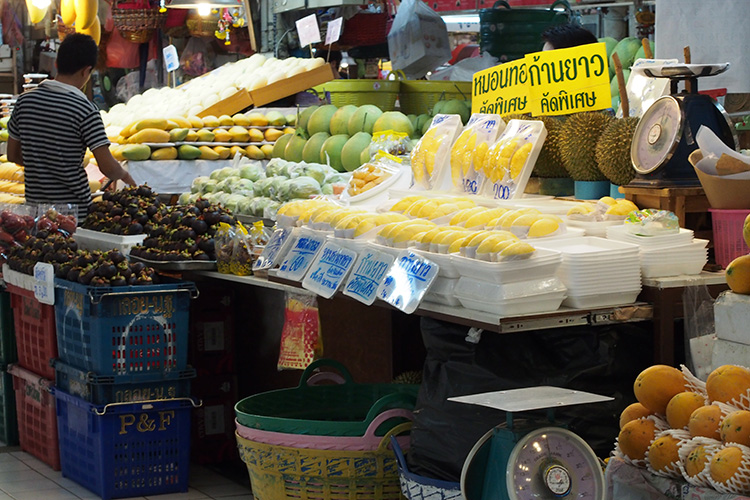 Durian farmers will tell you quality durian is a fickle fruit to grow and harvest. The weather and time including a host of other factors play a major role on taste and quality. And Or Tor Kor market vendors only select the best or have connections with farmers that keep their special stock because they know they can sell their higher quality durian at a higher than normal market rate price.
Normally at Or Tor Kor When the Fruit is in Season You Can Find Two Popular Varieties of Durian:
1. Monthong (หมอนทอง)
In Thai this variety of durian is translated as "Golden Pillow" because it's quite big and fluffy. The outer husk is huge with spikes so big you can use it to do some serious damage when used in a bar fight. The Monthong name is known as the largest producer of durian with many of its prized fruits coming from prime farming real estate south of Thailand close to Malaysia. Which is another Southeast Asian nation famous for its durian production.
 2. Kanyao (ก้านยาว)
Kanyao is a smaller variety of durian with smaller spikes but you'd still better be cautious when handling it. It's name translates to "Long Stem" in Thai though by the time it reaches the vendors in Or Tor Kor it's trimmed down for easier handling. Though you will see many vendors leave the stems on just for show and decoration.
If you stick a gun to my head and forced me to choose one of the two kinds of durian I would prefer Kanyao. It's sweeter, kind of like pineapple but without the sour acidic taste. Some would say it taste like super ripe mangosteen. But even then I still limit myself a small piece just to appease my wonderful wife.
Vendors won't hesitate to give prospecting customers a taste of their durian. So don't hesitate to ask for a piece they are very willing to oblige.
As of writing, a durian vendor that we always go to charged 240THB for 80 grams, about 3 pieces of Kanyao durian. I can't remember off hand how much the Monthong variety cost but I believe it was a bit more expensive because the pieces were larger. Prices fluctuate due to availability and season. Off season you can expect to pay 25% to 40% higher.
Or Tor Kor is open everyday from around 6am to 7pm. Though some shops close earlier. It all depends how much stock they have left. They carry a lot of seasonal items that normally don't grow in Thailand such as cherry or strawberries from the USA to prized and super expensive cantaloupe imported from Japan.
Ever buy a bag of mangosteens and rambutan and find it with a nest of ants? Or Tor Gor vendors know their customers have discerning taste. So not only do they carry fruits from the finest farms they also pretty it up and by that I mean they try to get rid of pests that could cause an insect infestation at a customers' home.
If you're reading this and it's still July then this is the prime time to stuff your gut on durian in Bangkok, and Or Tor Kor is the best place to buy it. You can also find high quality durian at the Emporium Supermarket inside Siam Paragon Mall, but they charge much more. Also, while at Or Tor Kor, don't forget to check out their rockin' food court!