A Wayfaring Soul's Guide to Hotels in Bangkok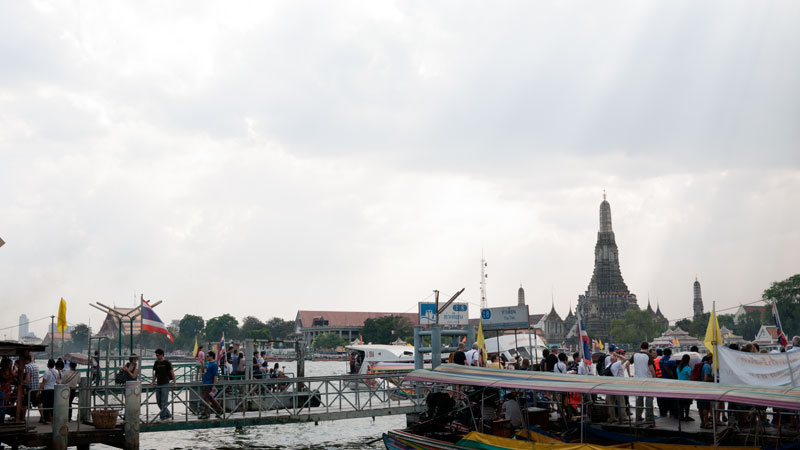 As the largest city in Thailand, the capitol city Bangkok has the most choices for hotels that'll fit most travelers budget and quality expectations. On this post I'll recommend some hotels in Bangkok and give you an idea on hotel cost, location and quality.
I'll point out the best family friendly hotels in Bangkok where there's something for everyone. And for those that want to know where is the best place to stay near Bangkok's crazy nightlife I'll point out some of the best hotels for enjoying Bangkok's nightlife.
When I'm asked about where to stay in Bangkok my answer is typically "How much you wanna spend?"And it's a question I am asked from anyone in search of a good quality hotel in Bangkok. So if you're looking for which areas in Bangkok to pick your hotels as a first time visitor you'll find the answers below.
And I'm the guy with the answers because from living in Bangkok and wandering around the city most of the time I pretty much know the city like the back of my hand.
There are many distinct districts, or neighborhoods in Bangkok with hotels from cheap to expensive that finding a nice hotel room to rest after a long day of sightseeing, shopping or eating is not an impossible task. I've broken down these districts into 5 areas for you to consider.
Top 5 Recommended Areas for Hotels in Central Bangkok
You want to stay in Central Bangkok. That's the sweet spot. Which part of Bangkok is Central? Well here are 5 best areas to stay in Bangkok for first time tourists:
Chidlom/Ploen Chit – Though you don't see both on the map these areas are located right near the border between Siam Square and Sukhumvit.
Siam Square – The nerve center of Bangkok. At least to me. Siam Square has it all, shopping malls and restaurants. Plus it's also the BTS Sky Trains main hub.
Sukhumvit – Within Sukhumvit are distinct neighborhoods, Asoke, Phrom Phong and Ekkamai/Thonglor.
Silom – Silom is the city's financial center. But there are also many good hotels in the area. And not as busy as Sukhumvit. It's also a nightlife hotspot mixed with a popular albeit expensive night market/red light district.
Rattanakosin– This area borders Khao San Road, Bangkok's popular hangout for backpackers and budget travelers. Best to book a hotel right on the river for tranquility and a wonderful view of sunset.
The first four neighbhorhoods are connected by Bangkok's MRT subway train and BTS Sky Train network. The last area, Rattanakosin doesn't have a train system yet. However, it's one of the most quiet and historical areas of Central Bangkok. So the trade off is it's a pretty area. But not convenient so you'll have to rely on metered taxis if you choose to stay at a hotel in Rattanakosin.
1. Chit Lom (ชิดลม) and Ploenchit (เพลินจิต)
Chit Lom (also written as Chidlom) has a lot of affordable 4 and 5 star hotels. In the West and East Asia hotels with that amount of stars have higher price tags. Not so in Bangkok. You can score a hotel room in one of Chit Lom or Ploenchit's high end hotels for about $150USD.
There are a few posh luxury brand name malls plus the Central Group's flagship shopping center Central World. The hotels I recommend in this area are near Chit Lom BTS Sky Train station. Ploenchit also has a station just one very short stop from Chit Lom. Central Embassy Mall is the nearest luxury goods mall to Ploenchit with lots of good restaurants.
These four hotels are not cheap compared to the rest of Bangkok. Chit Lom is considered an upscale area which warrants higher hotel rates. However, if you want a high quality hotel, but reasonable rates in Chit Lom, I highly recommend Grande Center Point Ratchadamri on this short list of popular hotels in Chit Lom.
2. Siam Square (สยามสแควร์)
Siam Square has the most family friendly hotels. What I mean by that is if you're with kids and adults there are many shops with all kinds of restaurants to appease all kinds of appetites. And there are many shops for kids up to adult luxury items which you can find inside Siam Paragon Shopping Center. Plus Siam Square is the BTS Sky Train's main hub that connects the Silom Line and Sukhumvit Line.
Hotels within the Siam Square area cost between $50USD to $$125USD. There are many new hotels in Siam Square built a few years ago and some are listed below.

Siam Square is great because you'll be close to everything and ideal for exploring the rest of Bangkok. MBK Shopping Center, Siam Discovery Mall, Siam Paragon Mall plus Siam Square itself has a family fun atmosphere and perfect for young and old traveling together.
3. Sukhumvit (สุขุมวิท)
Ladies, if you don't trust your guys it's probably best not to stay in Sukhumvit. Kidding of course. Sukhumvit is the home of 2 of Bangkok's red light zones, Nana and Soi Cowboy . Though it's still a family friendly area as well but not so much as Siam Square. So if you're traveling adults with no kids in tow it's best to book a hotel near Nana or Soi Cowboy red light districts in Sukhumvit. That is if you want to truly experience Bangkok's insane nightlife.
Sukhumvit area hotels are newer too and the quality is good with hotel rates ranging from $50USD to $150USD. Which is not so expensive considering the central locality.
These hotel selections are in Sukhumvit's prime location close to nightlife as well as Bangkok's efficient, if not crowded at times MRT subway and BTS Sky Train systems. But if you ask me to make a specific recommendation for a hotel in Sukhumvit I would pick Grande Centre Point T21. It's attached to a mall with lots of restaurants and shops. Plus the train systems are literally right out the hotel's doors.
4. Silom (สีลม)
Speaking of first epic visits, Silom was the first neighborhood in Bangkok I stayed in for my own epic visit to Thailand. That was a decade ago. So I'll always have a soft spot in Silom. Anyways, Silom is great because it's near the Chao Praya River. Or at least a few trains stops on the BTS exactly. But you won't have to pay the big hotel prices. Silom also has a small red light district called Patpong with many affordable hotels. Matter of fact Silom has the most inexpensive quality hotels.
Hotel rates in Silom range from $50USD to $100USD. Hotels in Silom tend to be older. However, many renovate in order to compete with the new.
Silom has a lot of fine dining options available as well with many international restaurants. There's even a small Japan Town called Soi Thaniya where many Japanese go for sushi and sashimi. A walk through Patpong Night Market after dinner could be a memorable experience as well. It's go go bars lights will dazzle you while touts tempt you to a sex show.
5. Rattanakosin (โกสินทร์)
Rattanakosin is Bangkok's historic district. Filled with quiet lanes and many small businesses run by the same family for generations and usually by Chinese immigrants. Staying at a hotel in Rattanakosin you'll have easy access to the Grand Palace, Wat Pho's Reclining Buddha and of course Khao San Road, famous for backpacking crowds of tourists.
Hotels around Khao San Road tend to be cheaper, with many guesthouses throughout Rattanokosin. You can easily find hotels in the for about $30USD to $80USD.
Rattanakosin is certainly a lot less hectic compared to the other neighborhoods I recommend. And you won't have any access to public train systems. So you'll mainly have to rely on public taxis. But luckily today, Uber and Grab Taxi are very good options as taxi rates are still reasonably priced in Thailand. So make sure you have an Uber and Grab Taxi set up on your smart phones.
Bonus: Affordable Hotels along Bangkok's Chao Praya River
Hey, I love Khao San Road too! But just like Rattanakosin there's no public train transport. However, if you twisted my arm enough I will recommend a few choice hotels near Khao San road for you:
Navalai River Resort – This little 3 star boutique hotel is located right on the Chao Praya River with a great view of Wat Arun. Get a room with the view of the river and watch the sun set with a drink in hand.
Riva Surya Bangkok Hotel – If you want a very good 4 star hotel but not pay the same expensive rates as the luxury hotels down river then Riva is one you'll enjoy by the Chao Praya River.
Both of these excellent Rattankosin hotels are near Phra Athit Pier. To get to central Bangkok, hop on an express boat and alight on Sathon Pier where you'll find BTS Saphan Taksin station just a short distance away.
They cost more than the typical hotels in Khao San road but you'll enjoy the quality as well as the view of the Chao Phraya River.
The Takeaway
So there you have it. Five areas in Bangkok where you should be staying for an epic holiday in Bangkok. But here are a 5 tips to remember before you book your hotel in Bangkok:
Don't be tempted to book hotels in Bangkok in poor locations because it's cheaper. You'll be spending money on meter taxis and most likely waste time getting stuck in traffic.
Travel mostly by BTS Sky Trains and MRT subway trains. So best to pick a hotel that is in easy walking distance to your choice hotel.
It's better to book a hotel room on online travel agencies like Agoda.com. In most cases they are able to offer lower hotel rates than the actual hotel.
Breakfast or no breakfast? If it's a 4 star hotel go ahead and book that room with breakfast even though it cost more. Usually cheaper hotels offering breakfast with limited choices are not worth the extra cost.
Want a room upgrade? Who doesn't. If you can, dress to impress. But most importantly, be nice! And you'll increase your chances of getting a room upgrade in Bangkok. I know this one is kind of hard to do if you're on vacation but you don't need to be in a tuxedo. A polo shirt and some slacks is sufficient.
So there you have it, the best places to stay in Bangkok for tourists looking for that magic first time experience in Thailand, the Land of Smiles.