Bests Hotels in Seoul for First Time Visitors
Seoul is a sprawling and spread out city. So it's important to find yourself a hotel that is convenient to the city's must see attractions. By that I mean looking for a hotel in Seoul close to a subway station. I've stayed in a lot of hotels all over Seoul and reviewed the ones I've stayed in as well as recommend those with excellent reviews.
These Seoul hotel selections and locations are great for group travelers and especially solo travelers such as myself.
In this post you're going to learn where to find the best hotels in Seoul's neighborhoods for first time visitors and reasons why I think they're great. But before we begin, here are some simple tips for your Seoul hotel research.
3 Quick Tips on Your Seoul Hotel Search
Seoul has a fantastic subway train system. It's extensive, inexpensive in my opinion and easy to navigate. Best to pick a hotel in Seoul near Subway Lines #1, #2 and #4.
Like hotels in Japan, accomodations in South Korea, particularly Seoul are clean and well maintained.
Seoul Hotels are affordable. For $50USD you can score a decent superior room but requires a short walk to a subways station. Hotels in the $80USD price range will set you up in a busy neighborhood with train stations just steps away.
5 Best Places to Stay in Seoul for The First Time:
1. Myeongdong (명동)
Hotel Price Range: $40USD to $150USD
Subway Line: #4
Why Stay in Myeongdong: Lots of shops selling beauty products and fashionable clothing.
Myeongdong (also written as Myeong-dong) has lots of budget to mid priced hotels. Most budget minded travelers choose to stay there because the most hotels with low rates yet decent quality can be found in Myeongdong.
Many cosmetic shops and an amazing array of cakes, ice creams and snacks can all be found in Myeongdong with reasonable prices also. And don't forget there are many street food vendors too. So much that you probably wouldn't need to go eat at a sit in restaurant
I recommend the 4 star Nine Tree Myeongdong hotel which I made a review here. The other hotels mentioned below are good alternatives too.
Myeongdong is a great area to stay Seoul and I highly recommend booking at hotel in Myeongdong for your first awesome trip in South Korea.
But what if you're not into shopping like me? What if you'd rather stay at a hotel near Seoul's majestic grand palaces. In that case, you should book a hotel near Insadong!
2. Insadong (인사동)
Hotel Price Ranges: $50USD to $200USD
Subway Line: #1 or #3
Why Stay in Insadong: Close to Seoul's majestic palaces and cultural sights.

Insadong is the first neighborhood I ever stayed in when I first visited Seoul many moons ago. I wanted to stay in Insadong because from my research Insadong is close to the major palaces of Seoul like Gyeongbok Palace, Changdeok Palace and Jongmyo Shrine.
It's not far from Cheonggyecheon Stream either. Plus Bukchon cultural village is in walking distance as well.
There's a popular shopping street in Insadong too where you can find all sorts of souvenirs. Also many restaurants here as well to check out.
Now, what if you're traveling with teenagers seeking a cool vibe location with plenty of vintage clothing shops and Korean fashion at reasonable prices? If that describes you then head over to Hongdae!
3. Hongdae (홍대)
Hotel Price Ranges: $40USD to $200USD
Subway Line: #2
Why Stay in Hongdae: For the youngsters or at least the young at heart.
Hongdae is an area I just recently discovered for myself. And I've been visiting Hongdae more often ever since. Hongdae has such a cool vibe that I stayed there for a week.
It reminds a lot of NYC's east village. Lot's of cool cafés and international eateries to explore and indulge in. That's because nearby Hongkik University is nearby so lots of businesses in Hongdae attract uni-aged South Koreans.
But Hongdae also attracts lots of young international visitors as well because many budget hostels and affordable guesthouses are near Hongkik University. So if you're of university age or a little younger I highly recommend booking a hotel in Hongdae for your first epic trip because you'll fit right in.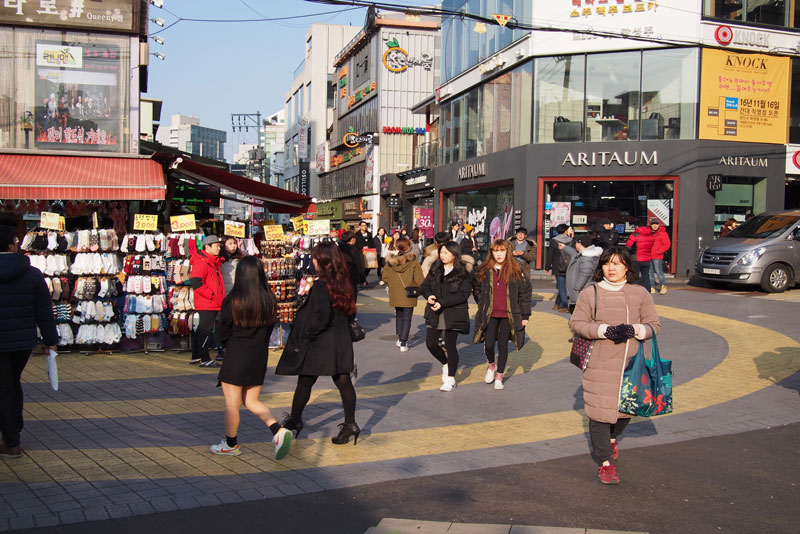 4. Gangnam (강남)
Hotel Price Ranges: $60USD $200USD+
Subway Line: #2
Why Stay in Gangnam: Because Korean pop star Psy says so.
If you've never heard of Gangnam than it's possible you recently woke up from a deep coma. After Korean pop superstar Psy's Gangnam Style music video, Seoul's business, yet fashionable Gangnam district became a worldwide sensation. When I first explored Gangnam district I thought it would be expensive because there were so many tall shiny office buildings and luxury brand name goods stores.
But it's not much more expensive than the other Seoul neighborhoods I've written about here. I do notice that the hotels in Gangnam however are newer and the rooms are larger in configuration.
Gangnam in a way is more orderly while Myeongdong, Insadong and Hongdae to me are much more chaotic. Which is the way I like it. But Gangnam has plenty of nice hotels recommended for anyone looking for nice mid-priced hotels in Seoul.
5. Itaewon (이태원)
Hotel Price Ranges: $40USD $200USD+
Subway Line: #6
Why Stay in Itaewon: For me it was the closest to a DMZ tour pickup location. But Itaewon is still convenient for checking out the rest of Seoul by train.
Itaewon is near an army base so there are lots of businesses catering and familiar to expats and US army personnel. To be honest I haven't really explored Itaewon so much and have stayed in 2 hotels in Itaewon. If you want to stay there be sure to check out the Korean War Memorial Museum.
Just because I haven't explored around Itaewon doesn't mean there's nothing to do around the area. I've read there's a nice selection of international restaurants behind the Hamilton Hotel Itaewon but at the time I didn't have a chance to visit. But soon I'll do a post about things to do in Itaewon probably after my next trip to Seoul.
The Takeaway
There are many hotels, guesthouses and hostels all over Seoul. If you can't find ones that you like on this post you're not got going to have a problem finding one that's right for your budget and comfort range.
But here are a 5 tips to remember before you book your hotel in Seoul based on my experiences:
South Korean hotels, guesthouses and hostels typical check-in times range from 2pm to 3pm. Check-out times are typically 10am. From my experiences they are strict on these rules.
Most budget priced hotels in South Korea don't provide daily housekeeping until requested.
Budget hotels that include breakfast in their room rates have simple offerings, like cereal, toast, boiled eggs, porridge, boiled sweet potatoes, you get it. It may not be the best but it's always sufficient.
If you are anyone traveling with you have mobility issues it might be best not to book a hotel near Namsam Park. Because there are hills and inclines that will not be easy to navigate for those with mobility issues.
The worst time to visit South Korea is August because of typhoons. So, if you're looking for the cheapest rates for Seoul hotels that's probably when you want to go.
I've traveled back and forth through Seoul on my way to NYC and Bangkok too many times to count. And I've stayed in a lot of different neighborhoods in Seoul. Which means a lot of nights spent inside a Seoul hotel.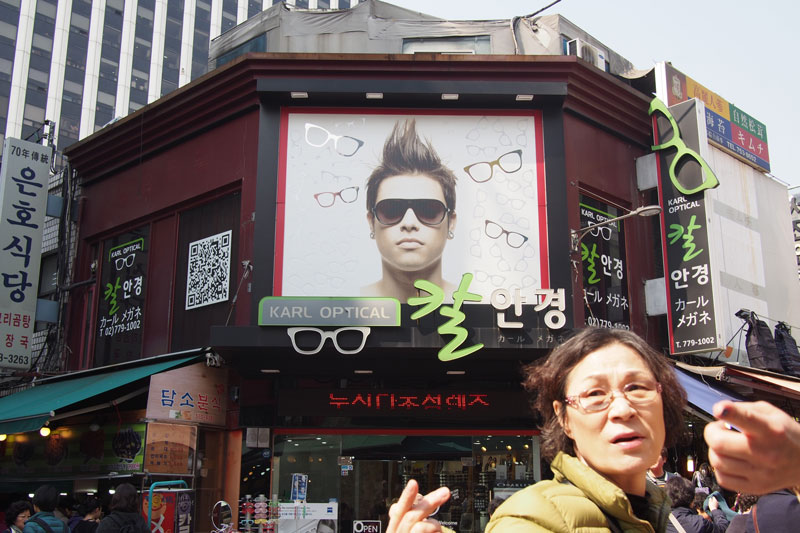 I've never had one bad hotel experience from the hotels I've stayed in for these reviews. Sure there are broken fixtures here and there. But the air conditioning was good in the summers and the heating worked well in the winters. Just one of the many reasons why I would travel to Seoul without hesitation.